Three Ways To Wear Wedgies
The Scoop
I am a big fan of YouTube these days and I love to watch "fashion" videos as well as "clean and decorate with me" videos. They are so relaxing and motivating. Almost every fashion vlogger I like to watch says you have to buy Levi's Wedgie jeans because they are the trend, comfortable and cute. So being a faithful follower, I did. Ha ha! I got them in light blue denim first and loved them so much I bought these distressed white ones. They are sort of like mom jeans, wider legs and high waisted. They are more of the old fashioned denim in that they are thicker and no stretch. I sized up due to those two reasons and they are a perfect fit. I am short waisted though and with high waisted pants it is a challenge for me to style them. They are not sexy but chic yes! They are so comfy it is worth the extra effort to style them. I am more into comfort these days than ever before.
I am wearing white jeans more now than I did all summer. There is something about white with fall colors that attracts me. Here I am wearing a cozy sweater in a deep cognac. To help with the transition from summer to fall I wore my Tory Burch sandals and carried my Tory Burch saddle bag. I will show you the earrings I am wearing further down but they are so perfect for fall and I wear them all the time.
So here I am with a crop top that I love and thought it was so cute with a denim shirt layered with it. I was going to return the top until I tried this trick and now I think it is a keeper. More about my bracelets down below.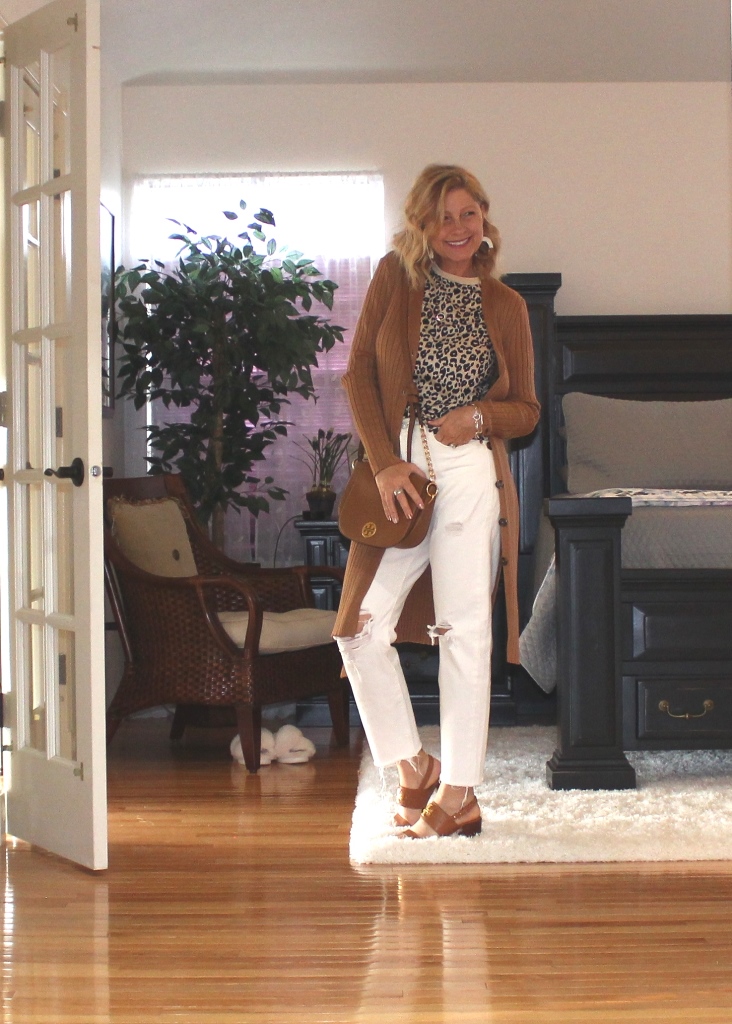 Another color combo that I just want to eat! The leopard tee is perfect with the long cardigan that has a tie at the waist which I think makes it different and classy.
Accessories and Nails
Thanks to Dawn and other lovely readers I have my nails back in good shape and am able to paint them myself. I used the products they suggested for strengthening and quick drying and was amazed at the difference right away. As for polish I found these fall colors and had to share them. I used the lighter nail polish on every other nail and topped with the glitter polish. It would be just as pretty without the glitter but I wanted a little bling and I couldn't find a clear glitter. I'm still on the search because I love the lighter color next to the copper color. Every other nail was done in the copper color.
The earrings I wore for these looks are amazing. They seem to go with everything. I couldn't find them online but I got them at H & M.
Amazon finally paid Reward Style so I am able to link things through them again which is where I got my bracelets that I wear all the time. Linking everything I could find.
If you have not subscribed to my newsletter I hope you will consider doing so. I only send out one email a week, each Sunday morning highlighting the week's posts along with a letter sharing more of the personal side of life. You can sign up here!
Thanks for stopping by!
Peace!