Got Kimono?
Sittin' in a tree, K-I-S-S-I-N-G
the scoop
I don't know what I want to talk about first, the kimono or the jeans. I talked about my latest kimono additions here. The green tropical maxi kimono is totally a favorite but this is the other one I got from Amazon and the colors just sing! They are my colors! If I had a flag it would be in oranges!
But wait, the jeans. Holy Moly, they are goodins'! Yes they have become my favorite jeans for summer 2018. They look like they are from 1979 which is a big part of why I love them. Now it's obvious I was alive and wearing similar jeans in 1979 but there is a big difference. Back then there was no stretch in the jeans so not quite as comfortable but these have a little bit of stretch. Not enough to make them stretch out but enough that they fit in all the right places. Hello lover! Ha ha. Nope, not drinking wine, just iced coffee.
sup?
In my effort to make sure I spelled that right I learned this . . .
Urban Dictionary: sup
https://www.urbandictionary.com/define.php?term=sup
A term that cool people use because they are too damn lazy to say What's up. (Too much effort involved there man.)
Now I beg to differ because I just spent a great deal of time, looking it up and putting it in this post which ended up even more difficult because I wanted it in the quote format. Just saying.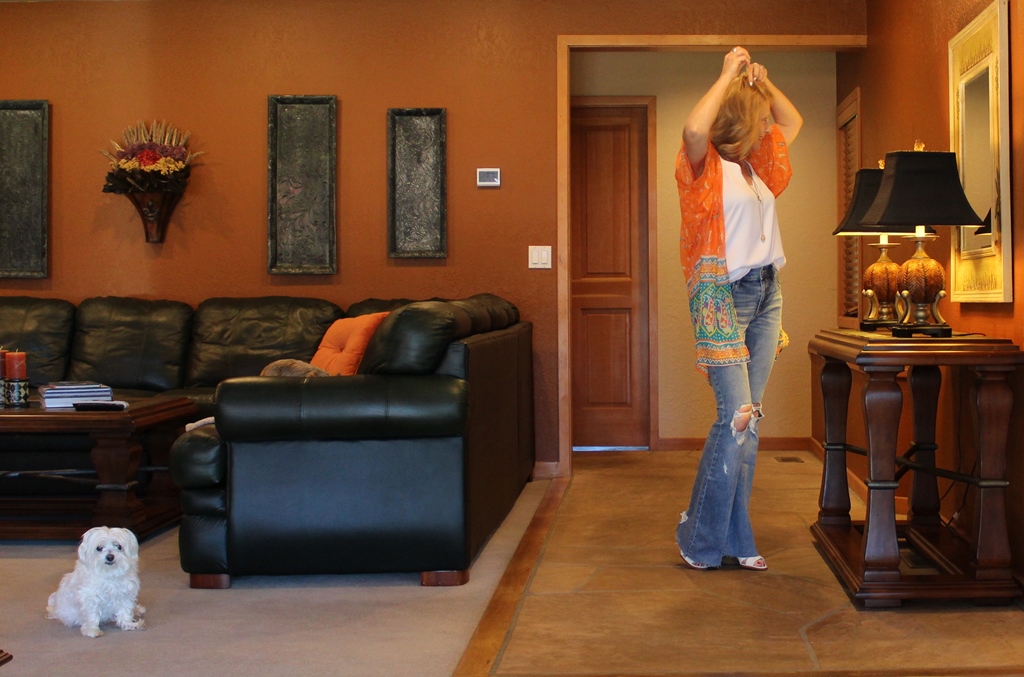 My buddy and photo director in action!
my look
Along with my kimono and favorite jeans of the summer I wore a white lined cami and white low heeled mules. I carried a little wicker bag and for jewelry I wore orange tassel earrings and a layered necklace. God only knows what was going on with my hair though.
Exact kimono, exact jeans (they sold out once, restocked but will sell out fast again), exact cami, similar shoes and fun bag!

Thanks so much for stopping by!
staying connected
You will no longer find me on Facebook, Twitter or Google+ so if you want to easily keep in touch sign up for my updates or follow me on Bloglovin.
link ups
I love to start my day linking up with fellow bloggers and seeing what everyone is doing! If you have a link up you want to add to this list leave it in the comments! See who I link up with HERE!
Use the share buttons below to share, pin & like. It's so easy, just one click and that's it!