Outfits That Didn't Make The Cut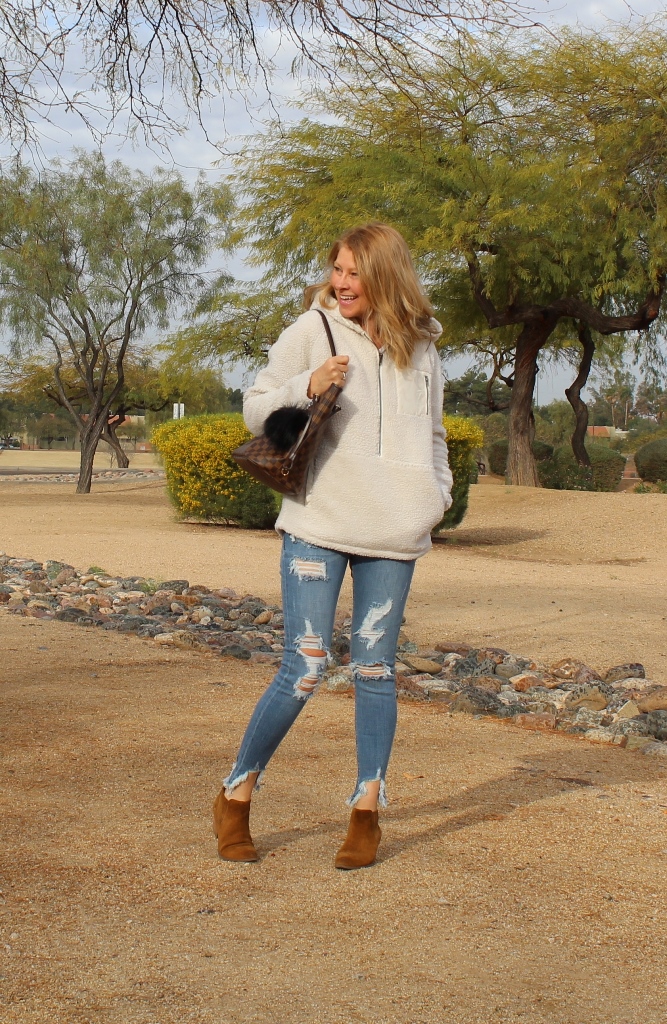 how many photo shoots I have done where not one picture turns out good enough for a blog post. Either the outfit is not right, the lighting is too dark or too light or my hair is sticking out.

the scoop
There are multitude of things that can go awry when taking pictures, especially if you do them yourself with a tripod and timer like I do. I decided for this post I would share some of the outfits that I couldn't get enough pictures for a complete post.
my outfits
In the first outfit (above) I'm showing you this fun top I got at Target here in Arizona in the boys department. I always check out the kids departments for fun things. This fleece top is cute warm and well made. Bam! The same top is no longer available but I found some others that are so cute to link up. The first one linked by J Crew is 30% off right now. I linked exact jean/leggings and some even cuter booties.
This outfit was ok but all my pictures were blurry so I decided against trying to do a full post. I like the top I linked up better than this one because it is more fitted. I will probably take this one back.
Same jeans here with similar top, heels and a fun bag to complete the look.

The next picture is a cute white top and fun orange bag. But my hair was having nothing to do with pictures that day. So a no go.
Same top here and on sale. Similar top, same jeans/leggings, similar booties and fun bag to complete the look linked.

Next up was the cutest lavender sweater and lavender heels but they just weren't showing the color well in my photos. I'll probably try again with this one.
Linked same sweater and heels both on sale. Same bag and similar jeans for a complete look are linked!

This is a really cute maxi dress that I got at Costco. I love it for lounging around in the warm evenings here. The colors are rich purples but you couldn't tell in the pictures.
I got this maxi dress last fall but I saw it in our local costco a week ago. Linking some pretty options on sale.

This picture is of a blue Foxcroft shirt that I love and my orange heels but my hair was sticking out in every photo so it was a dud.
I always size up on Foxcroft shirts because I like the more tunic look. I linked up a couple of cute Foxcroft shirts, same jeans and same heels to complete this look.

This look was the only one in this post taken in Idhao before we left to come to Arizona. I was having trouble with the lighting that day and the look wasn't coming across the way I envisioned so I scrapped it.
Same booties on sale, similar black shirt are linked. My jeans are really old skinny Levi's and the leather jacket is out of stock but I linked up another jacket that is stunning and in my checkout box it is so cute!

Don't forget to check out my Boutique under the shopping tab up top!
As always, thanks for stopping by!
Peace!
Use the share buttons below to share, pin & like. It's so easy, just one click and that's it!