True Tee - Almost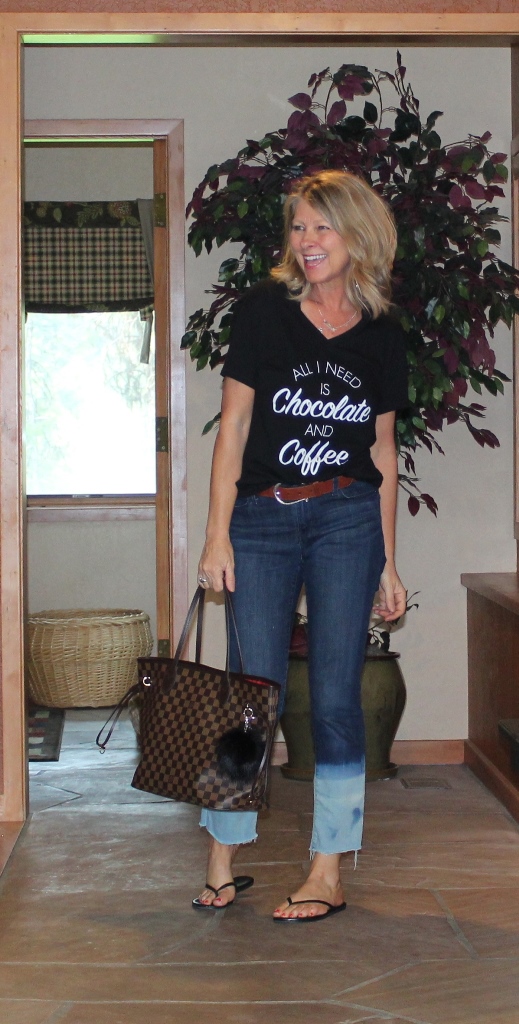 the scoop
This is one of my favorite graphic tees. It is so true for me. There is one other thing that I need and that is my dogs. Those three things together are comfort and joy.
my look
This is a summer look for everyday around here at home. I did the faded and raw hem on these pants myself. You can see the DIY here. You can buy similar jeans with this hem but they can be so expensive I decided just to do my own. I grew up in the 70s where we did stuff like this all the time.
The tee was found in a local shop here in town and they had several of them with different sayings. I got this and a couple of others, see here. They are so comfy and soft and perfect for a casual day. I wore a Brighton belt, and leather flip flops and carried my LV Never Full MM tote. My necklace is a bar necklace that says Coco, that is what my grandson calls me.
dogs, chocolate and coffee
Here are links to fun tees and jeans in case you want to create your own look. I actually found some on sale for decent prices.

saying goodbye is so hard
This last picture is one of my baby giving me a kiss. His name is McCall and he is almost 12 years old. I've had him since he was eight weeks old and he has been my constant companion over the years. He is so intuitive and sweet and I've always said he is my soul. I look into his eyes and see what life is all about. It's about caring, cuddling, playing and standing by one another.
My little baby is sick and starting to struggle and I try to soak up every minute I can with him as I know his time is short. I am terrified of him passing because he has truly helped me through some really tough times. I am afraid of the pain I will feel at his loss. Pet lovers will understand.
Meanwhile I am making each moment count. He is snuggled up tightly against me as I write this post. He is my pal, my soul. How do you live without a soul?
Thanks for stopping by gang!
Use the share buttons below to share, pin & like. It's so easy, just one click and that's it!
And I always look forward to your comments!